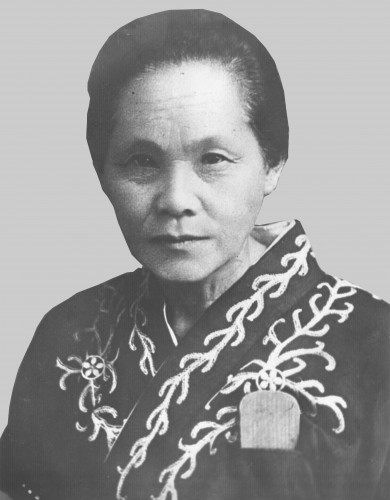 Good morning. I would like to thank all of you for taking the time to attend the June Monthly Service here at Pearl Church and thank you for your kind and sincere offerings. I am sure God the Parent and Oyasama is really happy to see you all here today and to have performed the service with joy and in high spirits!
Next Sunday is Father's Day so if I don't see you next Sunday, I would like to wish all the fathers a happy father's day. Thank you for your love and nurturing.
THE LIFE OF A WOMAN MISSIONARY
Tsugi Nagayama was born on November 18, 1875 in Nagasaki Prefecture, Japan. On a small island located between Kyushu and Tsushima. The people on this island were employed mostly in agriculture and marine products. However, due the bad economy, poor business climate, and the trend of the times, some people went to Korea and Manchuria as migrant workers. Tsugi married to a person from the same town when she was nineteen years old. However, her husband died two or three years later.
Nobody knows why Tsugi went to Manchuria, but on the back of an old photo is written: "Ha'erbin, China, 1905." We would guess that she was in China in 1905. It was also around that time when the Japan-Russian war ended. We are not sure whether she followed someone from her hometown or she went by herself. She ended up as a peddler selling kimono fabric. She took orders from a dressmaker and she walked about selling fabric, from town to town and the countryside. This is what she did to support herself in China.
The money that she earned was nearly worthless at times because of the political condition and unstable economy. It seems that Tsugi lived in China until about 1925.
Her Destiny Changes
The city of Harbin was plagued by dust storms originating from Siberia. This seemed to be the cause of bad sanitary conditions and many people suffered from epidemics in those days. Tsugi as well, suffered from some kind of eye disease. The Tenrikyo teachings were conveyed to her at that time by Rev. Kichitaro Wada, a missionary of (Tosei Church under) Keijo Grand Church and she became a believer of the faith. Tsugi's destiny changed dramatically after this. She left her hometown in Kyushu in her young age and worked very hard to pursue her financial dream. She was fifty years old when she got the eye disease. Physically everything in front of her was blacked out, but also it seemed as if her whole life was blacked out. She felt like she was at a dead end in her life.
However, through her new found faith, she made a resolution to return to Jiba and she received a miraculous blessing of being able see again. She listened and learned the teachings. She understood her causality and she experienced a spiritual rebirth and wanted to start a new life.
40th Anniversary of Oyasama
In 1926, Oyasama's 40th Anniversary Service was conducted on January (15, 20, & 25). Tsugi was able to participate in the pilgrimage group. 650,000 people returned to Jiba during this time. The number of churches doubled, Tenri Foreign Language School was established and the enthusiasm for overseas missionary work was intense. That year, 1926, Tsugi entered the 37th Bekka class which was a six-month spiritual development course. Tsugi had learned a lot about the teachings. She became a yoboku and she made a resolution to become single-hearted. She wanted do salvation work and thought of going out to do missionary work. Perhaps she thought of Hawaii because the northern part of China was very cold or maybe somebody had told her about doing missionary work in Hawaii or maybe she heard about Hawaii's endless summer climate. We don't really know why she wanted to go to Hawaii.
After she decided to go to Hawaii to do missionary work, she asked her minister for permission. But the church didn't know how to handle her situation since she didn't have any formal education. She couldn't even write her name. The grand church was at a loss as what to do with her request especially due to her lack of education and her age of 52.
Tsugi talked with her Bekka instructor and asked if there were other churches who might support her in her quest to do missionary work in Hawaii. The instructor said that there is a church called Tengen who might help her. She went there and met the first head minister of Tengen, Rev. Asakichi Nakao (who would be my great grandfather). He accepted her request and went to the Overseas Mission Department (which was established in 1927), and applied for her visa to migrate to Hawaii as a missionary.
Because of her age of 52 and illiterate, they felt it would be difficult to send her abroad; that is why she started to live in the Tengen followers' dormitory and do hinokishin and walked about doing missionary work. She believed that by planting seeds of sincerity, she could realize her dream of going to Hawaii. In the evening Mr. Kazuharu Hora, a young man from Tengen taught her reading and writing, as well as transcribing the Ofudesaki and Osashizu and also taught her the doctrine.
At that time, Tengen mission station moved to Ichinomoto and started construction of the church building. Through Tsugi's missionary work, she had followers with home shrines at that time, about half a mile north of Tengen.
Visa Approval
During the three years before departing, she went to the Overseas Department several times; she threatened the Tengen head minister, that she would commit hara-kiri if she couldn't go to Hawaii, and made fasting resolutions. The head of the Overseas Mission Department said that she might be able to succeed in her missionary work due to her high motivation and enthusiasm.
Finally the visa was approved. She was the first woman missionary to Hawaii from Tenrikyo.
Landfall in Honolulu
Tsugi Nagayama started her voyage from Kobe Harbor with Tengen followers seeing her off on her trip to Hawaii. After sailing for ten days over the Pacific Ocean, she finally landed in Honolulu, Hawaii on June 2, 1931. The Overseas Mission Department sent a letter to Rev. Kashiwara of Myodo Grand Church requesting him to be Tsugi's guarantor without whom she would be deported back to Japan. Rev. Kashiwara was doing missionary work in Hawaii at that time.
Note: The 1885-1894 was the 9 years of the Japanese contract laborers. After that people immigrated as private individuals and free agents. After that immigration was prohibited from 1924. From 1924, only missionaries and blood relatives of residents were granted visas.
Rev. Kashiwara met Tsugi at Honolulu Harbor and took her to Taiheiyo Church and she stayed there for a while.
Missionary Work Began In Palama
Tsugi finally realized her dream of coming to Hawaii. From that day on, she started to find a place to stay and started her missionary activity. She found a room in a two-story apartment on Pua Lane, in Palama, near North King and Liliha St. (Palama is near to downtown and Honolulu Harbor.) Palama and Moiliili were places where the Japanese lived and were called Japan town. People there were lively workers.
She thought her small apartment was inadequate for people to gather. So she found a small cottage house at 1012 Austin Lane. It was the third house from North King St. There was a hedge along the front entrance. Tsugi placed the shrine in the living room which was about 20' x 15'. The right side of the house has a bedroom, bathroom and kitchen. The house rent was $30 per month. There was a fire station, Kaiulani Elementary School, Palama Theater, Kaumakapili Church, a Japanese owned grocery store, a saimin stand and a drug store nearby on North King St.
Tsugi spread the teachings door to door to the laborers and those with illness and administered the sazuke. Also she did massage to those with stiff shoulders.
Gradually she gained a following. Members paid a monthly fee of 25 cents per month. In 1931, a name list included (35 names):
1. Kamiya, Hikosaburo
2. Watanabe, Kiichi
3. Tomita, Yasumatsu
4. Iwamoto, Takeshi
5. Yamazaki, Haru
6. Tanabe, Hifu?
7. Kusumoto, Matsuji
8. Kawakami, Jinzaburo
9. Yasumoto, Fusa
10. Okashige, Tokumatsu
11. Okumura, Kadotaro
12. Nishiyama, Kuraichi
13. Yamashina, Kimi
14. Ishimoto, Ichigoro
15. Ueno, Sue
16. Nakamichi, Kametaro
17. Iwane, Fujishichi
18. Nitta, Tomi
19. Suekawa, Katsujiro
20. Matsuki, Emi
21. Maeda, Tome
22. Komatsu, Shiyoka
23. Takahashi, Tatsuji
24. Maeda, Isao
25. Takagi, Mitsuji
26. Tanoue, Hisakichi
27. Yamashita, Kimi
28. Wakisaka, Haru
29. Harada, Kono
30. Kishida, Shintaro
31. Fujioka, Tamai
32. Sasaki, Shichi
33. Hasegawa, Yousaku
34. Sakai, Isaburo
35. Ohama, Haruko
The list of 35 names is dated August 1931 which is just three months after starting her missionary work. These people started coming to her house for worship at her shrine.
In 1932, an additional 31 names were entered in her log book (as follows):
1. Oda, Hikotaro
2. Mizunaka, Sayo
3. Kuwahara, Shige
4. Sakai, Ichijiro
5. Yamamoto, Tona
6. Saito, Toyo
7. Takei, Umeko
8. Sakai, Matsu
9. Yoshioka, Tsuruyo
10. Morioka, Hisa
11. Borteza, Chiyoko
12. Samson, Alona
13. Shinagawa, Ito
14. Inai, Fui
15. Ogasawara, Kisayo
16. Saito, Take
17. Yanagisawa, Hirotake
18. Furukawa, Mitsuji
19. Sumida, Chiyoko
20. Tanaka, Chiyomatsu
21. Matsuoka, Masaji
22. Shimada, Matsutaro
23. Hirasawa, Owai
24. Aoyagi, Haruko
25. Otake, Noboru
26. Takane, Satoe
27. Eto, Jinkichi
28. Sakata, Tokutaro
29. Tanaka, Kimi
30. Takada, Kunimitsu
These names were recorded after she started her missionary work from Austin Lane. There was probably someone who helped her maintain this list since she couldn't write too well.
Tsugi walked house to house, from Nuuanu to River St., Kukui St., Vineyard Blvd., and Palama where people of many different racial backgrounds lived. It was a lively town. Tsugi walked under the strong Hawaiian sun, visiting the people who lived in the shabby houses of the area. Before World War II, most of the Japanese women wore kimono, but Tsugi wore a plain colored cotton dress with a hauori (kimono) coat. She walked to from Kaliha to Palama and then to Puuloa Road where she visited people at the sugar cane plantation workers camp. When the plantation workers moved to Aiea and Waipahu near Pearl Harbor, she continued to visit them at the greater distance to do salvation work.
Near Aala Park, there was the Oahu Railway Station. The train went to Ewa Beach, however, due to the increased use of cars, the station was closed and became a bus station going to the leeward side.
The Second Shinbashira's Mission Visit
During the construction of the South Worship Hall and the Foundress Sanctuary in 1933 at church headquarters, the 2nd Shinbashira visited the United States, stopping by in Hawaii on June 22. On the 23rd, a District Seminar was held at Taiheiyo Church and Rev. Tsugi took some members including Sakayo Otake and others to the seminar. After the seminar, Tsugi introduced herself to Rev. Tamenobu Nakayama, who accompanied the Shinbashira as an attendant and talked about how she was doing in her missionary work. He promised her that he would visit her after she received the truth of church name. After she heard this, she quickly told him that she will be going to church headquarters next year to receive the truth of church name. After doing two years of missionary work in Hawaii, Tsugi was deeply moved and inspired by hearing these words directly from Rev. Nakayama. She became even more motivated in her missionary work. Palama is a closely knit town. So the people are very friendly and you can feel the people's warm kindness which was very comfortable for Tsugi. Receiving miraculous blessings one after another from diseases such as: Asthma, eye disease, bronchitis, and ulcers, many people started to come to her mission.
The Establishment of Pearl Church
In the summer of 1934, Tsugi returned to Jiba to request permission to receive the Truth of Church name for church establishment. The church was officially established on September 29, 1934.
On this year the new South Worship Hall was completed and the dedication service was conducted on October 25. The construction was done using Japanese cypress lumber. The new Foundress' Hall with corridors on both sides connecting with the main sanctuary was also completed. Tsugi was moved to tears as she worshipped and marveled in the newly completed buildings. Tsugi filed the application for church establishment. Rev. Tamenobu Nakayama named the church, "Pearl". Tsugi Nagayama was installed the first head minister. (Church members Yosohachi Maehara, Sakayo Otake, Shinkichi Yanagisawa, and Keniichi Yamazaki were named as board members).
In 1936, (during Oyasama's 50th Anniversary), Rev. Nagayama led a group of five followers and they all entered Bekka, which is the 6-month Spiritual Development Course.
In 1937, (for the 100th Anniversary since Tenrikyo was established), Rev. Nagayama led a pilgrimage group of twelve people of which 8 received the Truth of Sazuke and two: (Sakayo Otake and Ijyu Kusumoto) entered Bekka.
In 1941, Japan attacked Pearl Harbor and those Japanese people in leadership positions were sent to internment camps on the mainland. Twelve Tenrikyo ministers were arrested and sent to the camps. A few day later, the FBI came to Pearl Church, but Rev. Nagayama was away at that time. One of the followers, who was there, Mrs. Ogasawara talked to the FBI who searched the house for weapons. They took the shrine symbol of worship and instructed her not to do missionary work. The FBI visited the church several times. For some reason, probably old age, Rev. Nagayama was not arrested. Rev. Nagayama continued to perform the morning and evening services and visited her members.
After the war ended in 1945, the 2nd Sunday in September, they could conduct the monthly service for the first time since the war started. Tsugi Nagayama was 70 years old at the time. She was a large framed woman with a straight back.
One day, while visiting a member Mr. Yoshinori Furukawa in Aiea, she fell stepping off from the bus, fracturing her ankle. Dragging her leg, she arrived at Mr. Furukawa's house. She couldn't walk and was admitted to Kuakini Hospital.
At the hospital, Mrs. Otake visited Rev. Nagayama who told her that she felt that she had to get out from the hospital and do salvation work. Ten days later she was discharged. However she was very weak physically and also suffering from loss of short term memory.
In 1948 Rev. Nagayama returned to Japan and passed away at the age of 73 in 1949.
Thank you for your attention.
Announcements
The long awaited Hawaii Convention 2011 came and went with 330 participants surpassing their goal of 300. There were a total of eleven participants from Pearl Church. I would like to thank all of you for your support and participation. Thank you very much!
The annual Hawaii One-month Spiritual Development Course will start next Sunday, June 19 at Mission HQ. If you or anyone you know could benefit from attending this course and wants to attend, please let myself, or Taeko know.
The MHQ service will be held this coming Sunday on June 19