Aloha members and friends!
1. The annual TCC (Tenri Cultural Center) general cleaning is coming up this Monday, President's Day, February 20th, from 9am to 11am.  Lunch will be served at 11am. Please join us in joy and gratitude to keep the Cultural Center beautiful and the treasure it is!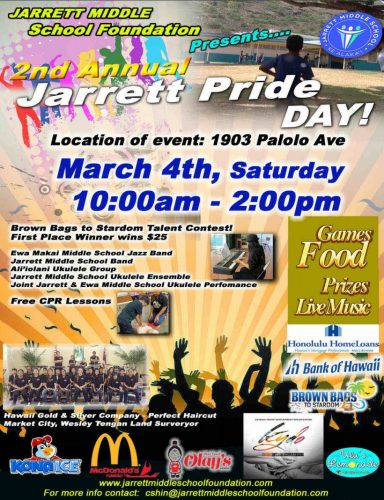 2. The 2nd Annual Jarrett Pride Day is coming up on March 4, 2017, Saturday from 10am – 2pm.  Pearl Church will be selling spam musubi and bubble drink with net proceeds going to Jarrett Foundation!  There will be games, food and live entertainment.
Jarrett Middle School has made great strides in positive behavior, academics and general overall atmosphere over the years with its dedicated teachers and staff.  But with the present young principal Dr. Reid Kuba making positive changes, the community can truly be proud of this school.  But it needs our support!
See attached flier!  And feel free to forward to friends and family!
Sincerely,
Rev. Owen & Taeko Nakao