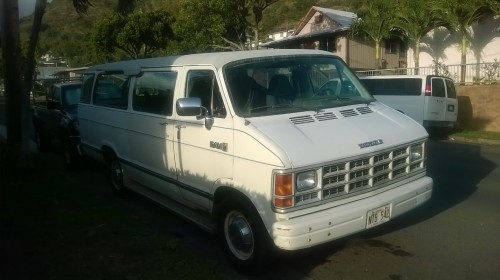 We want to once again thank Tomo Kaisho for his donation of a 2005 Savana 15-passenger van which just completed repairs, safety check and registration.
At the same time, we bid farewell and express our thanks to our 89 Dodge van which has served us faithfully for 7 years from 2007. I will be putting it up for sale on Craigslist, but before that I want to make it available to our church members or their friends who might be interested in purchasing it. See below for photos.
It's has a little over 104,000 miles on it.
It's a 15-passenger, but sits only 11 due to the back bench seat was removed and disposed of to make space to load equipment.
The bad
A/C front doesn't work due to fan broken, should be an easy repair at repair shop.
Some rust, see photo
Roof leaks, but repairable
Dent on the back left rear side body, see photo.
Sliding door needs a little upward elbow grease to close.
Safety check expired 4/30/14. Windshield washer spray needs to be repaired to pass safety inspection.
The good
The engine runs well, smooth and strong.
The back a/c works
The registration was just renewed, expires in March 2015, $416 value
Spare tire, jack, tire iron included
Tires are in good shape.
Brake master cylinder was replaced a few years ago.
Battery is fairly new.
Asking $1000.
Rev. Owen Nakao, cell: 381-9612