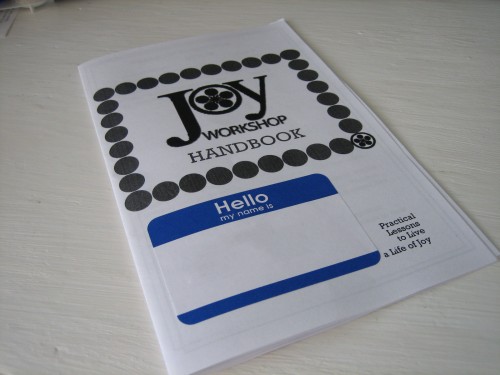 On Sunday, April 14, 2013, after the Pearl Church monthly service, as assigned for the Joy Workshop program in Hawaii, Pearl Church hosted the monthly Joy Workshop. There was a total of 13 participants who sat through a short 30 minute introduction and lecture by Setsumi Saltman and an hour-long group activity the followed after lead by facilitators: Rev. Tyrone Inouye, Rev. Lynn Nagata, and Rev. Owen Nakao.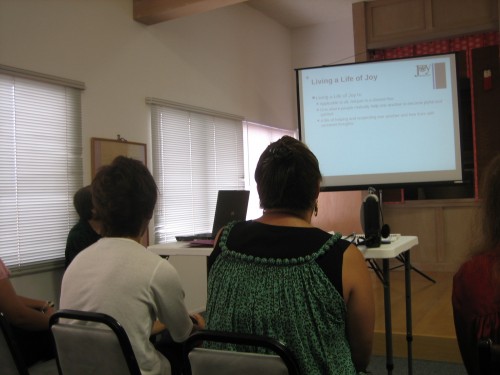 The lecture by Ms. Saltman included an introduction to Tenrikyo, its concept of "joy," what obstacles to achieving "joy" (dust), and what we can do the achieve "joy" (Hinokishin, the Service, and administering the Sazuke). Ms. Saltman also shared a personal experience about how conflict was an obstacle of achieving "joy."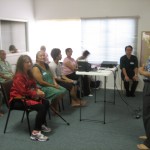 For the group activity, participants were divided into three groups, each lead by a facilitator; one group was for Japanese-speaking participants. The group activity involved filling out questions on the "Joy Workshop Handbook" and allowing participants discuss their answers. The "Joy Workshop Handbook" focused on identifying obstacles to joy and how we may expressing gratitude for the things that create joy in our lives.
Hearing the answers from my fellow group members was, to me, the most important aspect of the whole workshop because it reinforced and expanded my perspective of joy and gratitude.
Positive comments could be heard from participants openly discussing their experience they just had. With the great turn out in participants and results, we look forward to supporting the next Joy Workshop!