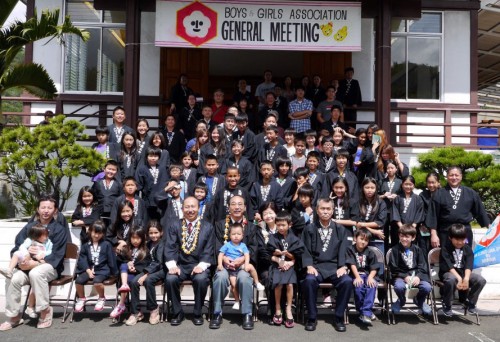 On March 29th through the 31st, albeit a little mild rain, the Annual Spring Camp and 38th Annual General Meeting was successfully held with a total of 55 children and 5 counselors. Activities such as the Mini Olympics, Adventure Trails, Camp Fire, and traversing the world's largest maze at the Dole Plantation were all run with the help of members of the Young Men's Association, Young Women's Club, and Women's Association.
This being my first year as a camp coordinator, it was a very challenging task; much more so than I expected. It really made me admire school teachers even more so for their patience and skill at what they do everyday. The children, while cute and fun to play with, are not always going to listen or do what is expected.
Also, being new father, I began to recognize the importance of the camp for our children of the path. Growing up with the camp, I realized that the camp was a unique opportunity for children to interact with others away from their parents for an extended period of time and gain a lot from that experience. They begin to face issues getting along with other children and they cannot exactly run away from it. They have to think a little more independently as opposed to following routines established by their parents or have their parents do things for them. The camp leaders also begin to have responsibility over others. All those small and new experiences with emphasis on the Service, Hinokishin, and helping one another have had a big influence in my life growing up. Being a part of the BGA Camp staff allowed me to be a part of that positive influence on many children and so I now look forward to helping out with the next BGA activity.
Lastly, much thanks to the Bishop and Mrs. Hamada for their many years supporting the camp and judging the "Talent Show" during the Camp Fire activity.
This was also published in the April 2013 Issue of Origins & Makoto.