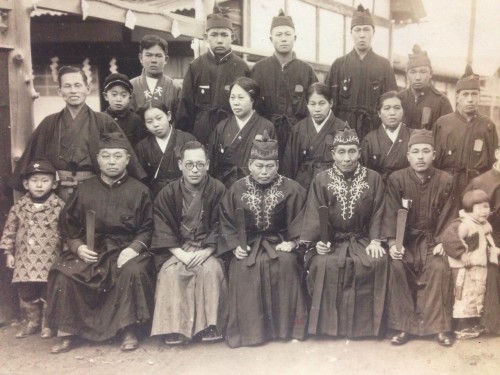 Circa 1920, this is a photo of Tengen Branch Church's first Head Minister Rev. Asakichi Nakao (center) with his followers. The lady above Rev. Asakichi is Etsuji Kitada's Great grandmother. The little boy on the far left side is Rev. Yoshinobu Nakao, the second head minister of Pearl Church.
The gentleman behind Yoshinobu is his father (Asasaburo), who passed away at 44 years old when Yoshinobu was 16 years old and his younger brother Yoichi was about 5 years old (both still alive today). Rev. Asasaburo's wife, Masa then became the third Tengen head minister a year after Asasaburo's passing. (not sure if she's in this photo, but could be the woman to the right of Asakichi).
This picture was shared by Etsuji's first son Yuuki who recently moved to Honolulu and works for a wedding company at the Hilton. You'll likely see him around at Pearl Church.